As previously referenced by Matthew, we have a new entry in the running for Worst Uni in Seattle History. It is a crowded field. Let's get into it.
* All links open in a new window.
Mariners Silverback BP Jersey
Leaving aside the hair turd residing under Felix's teal panel texture-brim cap, this is, to my mind, the all-time worst Mariners look. Takes the BP/Spring Training uniform concept to a stunning new low. When Drayer first twit'd a pic of these I thought the silver strap must be some kind of motion training device, because Jesus fucking Christ that can't be the jersey. The Pirates don't even look this bad, and they look ridiculous. The silver thing is a smaller panel between the shoulder blades on the mockups. Something went terribly wrong from concept to design, and even wronger from design to execution. Maybe these don't count because hey, pretend games, but the sun is shining and those are the Mariners. Total nightmare.
Seahawks Green Alternate
Navy pants + navy shoulder panel + metallic blue helmet + nuclear snot jersey = hideous disaster. Looking directly at this uniform for prolonged periods may result in corneal scars, hysterical retching and fibromyalgia. Mora the Younger declared these to be dead and buried, but as the only league-approved alternate in the Seahawks' closet, a reappearance is theoretically possible. Voted the Worst NFL Uniform Ever by Uni Watch readers. Robert and Scruffy adore these, which goes to show that Ritalin cannot solve everything.
Sonics Red Alternate
It was bad enough when, apropos of nothing, Brick Red was dropped into the Sonics' color scheme along with a swooping cartoon font. Then they busted out this jacked-up gear. Most photographic evidence was destroyed to curry favor with the basketball gods. Patrick Ewing wearing this uniform at MSG marked a nadir in team history. And then other things happened. 
Mariners Turn Ahead the Clock Uniform
Incredibly, fantastically awesome. Many have opined that these garish costumes were an abomination. Understandable, but I like SciFi, I like kitchy futuristic Americana and I love these one-off uniforms. The M's idea spurred an ill-advised wider promotion but that musn't sully the original. Great writeup and photos here.
Mariners "Northwest Green" Teal Jersey
I'm conflicted on this one. I still remember a college care package that included the new M's cap with teal brim, a gift from my dad back home. That hat made it through Nirvana concerts, Mexican spring breaks and countless pickup basketball games before being consigned to the universe of lost items. I also remember poring over a newspaper photo of a just-off-the-DL Ken Griffey Jr. wearing the teal. Junior's arms were raised in celebration as he watched his walk-off home run sail over the Walla Walla. That game, of course, was the beginning of the miracle run that led to their first playoff appearance, so these unnaturally bright jerseys carry a nostalgic value.
On the other hand, good god.
Sounders 2011 Kit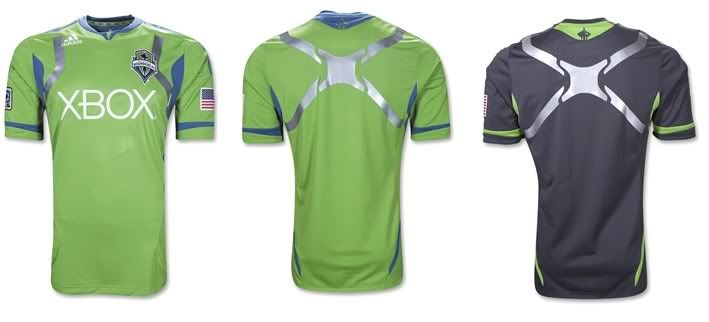 In just two years of existence, the Sounders had established arguably the most recognizable look in North American soccer. The redesign has not been well received.
Sounders Electricity Third Kit
Trainwreck. A train carrying hazardous waste trainwreck.
Metropolitans Sweater and Leggings
Ah yes, the Metros, the first American team to win the Stanley Cup. This may either be a beautiful uniform or the most ridiculous sporting outfit ever foisted on the Puget Sound, depending on your perspective. Mine is that they are brilliant. And that you should find this sweater and buy it for me.
Dishonorable Mention
Mariners Black Alternate, Seahawks Blue over White, Sonics Yellow Alternate