So a while back I was wondering how the variance of OPS+ has changed with time.  The average of OPS+ is set at 100 by definition but there is nothing in the formula that makes sure the stat falls under the same distribution all the time.  An OPS+ of 120 is always 20% better than average but it doesn't tell you what percentile you were.
My first thoughts about this came from trying to compare OPS+ from different generations.  A fairly wide feeling is that as the competion in the league increases we should see the variance in the league decrease.  Ty Cobb might have been much like Ichiro but he played in a drastically different league for example.
Not surprisingly, I don't have amazing database skills and the info wasn't availible instantly.  After dreading it for a while, I went through baseball reference's database using their PI tool and took down all the players with more than 100 PA for a bunch of different years.  Then I found the PA weighted OPS+ which came out to be about 100 for every case (good sign!).  After that I found the PA weighted standard deviation in OPS+.  I also found the skewness but I don't think that tells me a bunch.
So anyway, what did I see?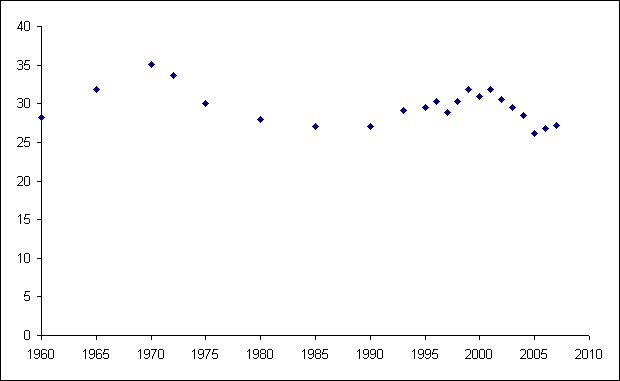 Well, looking at the graphs you see that it looks surprisingly noise free.  I was pretty shocked.  I didn't expect this.  I was basically expected to not see anything interested.  Oh yeah, don't complain about me not having every year.  It takes a while to strip the info for me and I got lazy.  So anyway, we see that the variance looks to decrease slowly which is what we expect.  I kinda would have thought the increase might have been larger but I've been wrong plenty of times before.
The most interesting features of the graph is the blip around 1970 and 1999.  I'm not 100% sure why there is the bump around 1970.  I think a small error I made when I was collecting data was that I did not exclude pitchers and they tend to have pretty horrible OPS+.  I don't think it caused this spike but it might explain a little of it.  This wasn't smart to do but I don't think it destroys everything (hopefully).  From 1990 to 2007 there were only 6 times that 100 PA was broken by a pitcher so the recent times should not be affected by this at least.
And to the blip I think is most interesting.  The one that goes from around 1990 to 2005 fits amazingly well to the steroids era.  The most interesting part I think is that the variance is back down to the level it was before 1990.  The first question I asked myself is what happens when you take a few of the top hitters out for those years?  Maybe its just that a couple players like Barry Bonds are just skewing it.  Well I tried that and it doesn't get rid of the whole peak.  Does this mean that that the effects of steroids and performance enhancers are gone or does it mean that everybody is using HGH now?  Does it mean anything at all?  I'm not really sure.  I'm guessing that the testing baseball has now has really done something.